10
The original, with shows and live mixes.
On air:
Aerial Soundwaves
Now playing:
Daniel Ingram
Friendship Through The Ages (JulienH Remix)

Our chill station, for chilling. No interruptions.
On air:
DJ Stormswirl
Now playing:
1
Our signature playlist, with no interruptions.
On air:
Aerial Soundwaves
Now playing:
Daniel Ingram
Friendship Through The Ages (JulienH Remix)
Latest News
It's that time again!

This year we have the great pleasure of teaming up with PonyTown and PonyFestOnline to do an event with a difference!

We will be hosting a two day event with 2 stages on the Saturday, and a more familiar style DJ Train on the Sunday with our Encore Event! 

You can watch the event via PonyFest where you can connect to the special event ponytown, or if you just wish to listen to the event, we'll have the Aerial Stage live on PVFM1 as always!

Sunday's Encore Event Lineup will follow when we have all the musician submissions - It will be live on ponytown and PVFM1

We look forward to having you join us for our 11th Birthday folks!

Saturday's Line-up!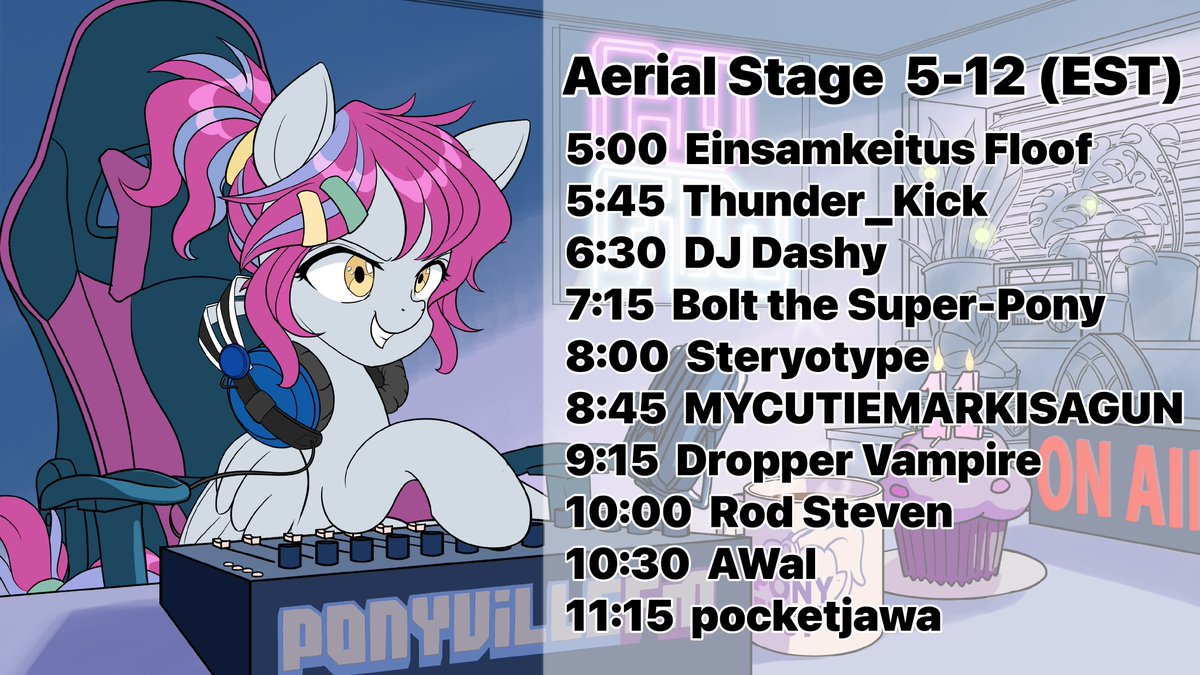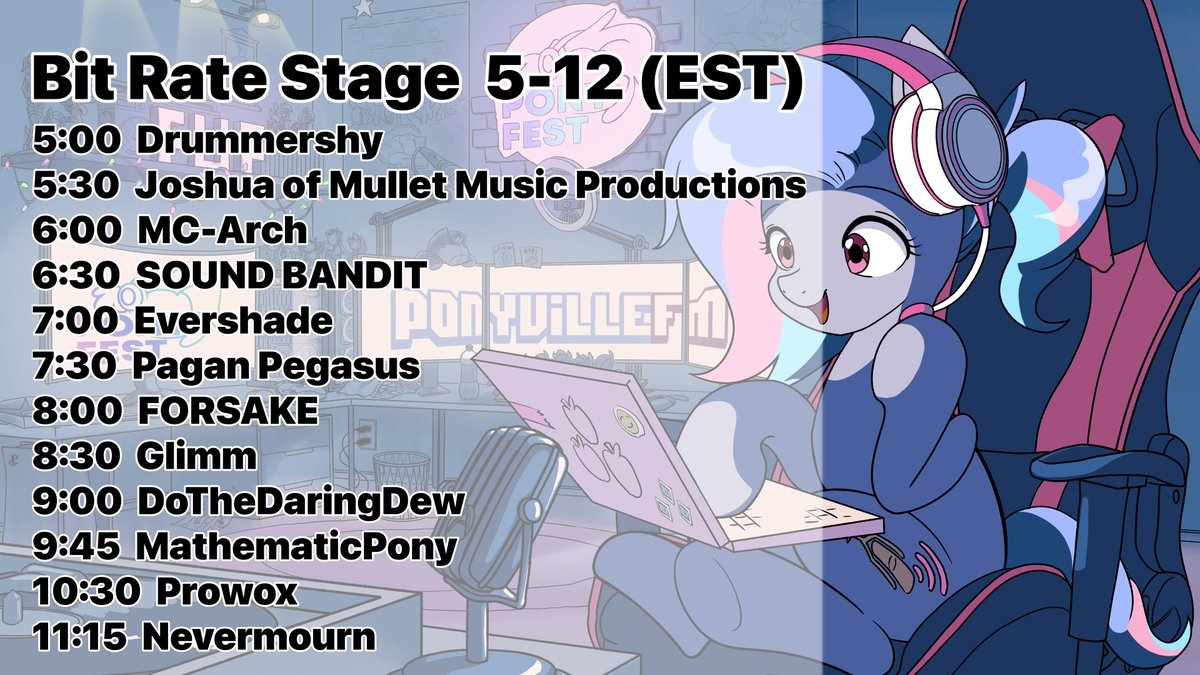 Right, it's that time again!
PVFM's 10th Anniversary Weekend
That's right, we have been on air for over 10 years, a whole decade as we move into 2021, and it has been one awesome and emotional ride, seeing all the creativity from our fandom, older musicians moving on, newer ones coming onto the scene, DJ's and performers alike coming and going, but all have taken a moment to touch our lives with their inspirational creativity and willingness to give back to the fandom they love.
For PonyvilleFM, (BronyRadio to those old enough to remember!) We have been through many iterations in server style and structure, starting with the very jank ShoutCast 0.9 back in 2011 before having a proper hosting system, and then realising the limitations of what we had, we had to make a new system, which was nicknamed Stormswirl, which served us well until 2014, when she was retired into the Server system we have today, Aerial, which supports almost every dj client that exists, and our scheduling modules.
It gives me great pleasure to have you all for this weekend, and thank you to all the performers that gave up their time and signed up to showcase their creativity. Lets hope 2021 brings us brighter days, and remember you all have a home here in this server, even if it's not as active as 'the good old days', we have no plans of shutting down yet.
HAPPY 10TH BIRTHDAY PONYVILLEFM!!!
Artwork by Partylike 
https://twitter.com/party__like?s=21
Just a quick heads-up. We will be performing some essential station maintenance on 3rd, 4th and 5th of August 2020 inclusive. During this time, we may have to temporarily bring down some of the PVFM radio streams. 
 
For more up-to-date information as well as to interact with our community, feel free to join our Discord Server!

Thanks for your patience!